Your insurance website design must be mobile-friendly.
It's 2019. You have to make sure your website, contact information, and the way the public interacts with your brand and get in touch with you online is mobile-friendly.
Don't believe us? Let us tell you a short story.
One of our clients sells Medicare Supplement and Advantage. Even with the older demographic, the 64 and up Medicare market, 65% of their site traffic is coming from mobile devices. Only 35% was from desktop.
So, even if you're selling insurance that caters to seniors — life final expense, Medicare, and etc. — you still need to have a mobile-friendly insurance website design.
But what does mobile-friendly mean?
Mobile-friendly insurance website design
Have you ever went to a website on your phone and everything looked super small or the layout looked scattered? Maybe it looked like things weren't where they belonged?
It's because the website wasn't designed to be mobile-friendly.
What makes a website mobile-friendly? It needs to have:
Easy-to-read fonts — Most templates will include fonts that are easy to read, but you may want to double check. Sans serif fonts are generally the easiest to read on mobile devices. Also, be sure all of your text is large enough to read on small screens.
Responsive design — Responsive design means your site will automatically display your site properly on any size screen. It will also display correctly if the user's device is in portrait or landscape mode. You can either have your site custom built to do this or there are plug-ins and templates that automatically include this feature. Without it, your website will just shrink to a miniature size.
Quick load times — A mobile-friendly template or custom design that cuts down on the number of requests a user's browser has to make to load your site is ideal. Also, find a web hosting service that loads your site quickly. There are a number of sites that can tell you how fast your site loads and what improvements need to be made. Google PageSpeed tool does this.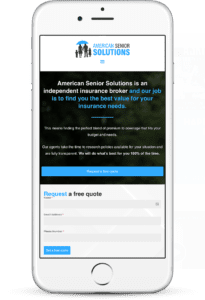 Here's a look at one of our clients' website pulled up on an iPhone.
Is it worth the hassle?
Yes.
Seriously, if you haven't already optimized your site for mobile devices your customers notice. It comes off as unprofessional and lazy to not have a website that loads correctly on cell phones and tablets. Nearly 60% of people say they wouldn't recommend a business that has a poorly designed mobile website. Google also readily admits that they give well-designed websites a boost in their rankings.
That makes sense because almost 60% of Google searches are made on mobile phones. So, why would Google want their users to be frustrated by pulling up a website not optimized for their device.
Here are three stats that prove a mobile-friendly insurance website design will have a direct impact on your wallet:
More purchases are made on mobile devices — According to CEO Magazine, on average, 15% of desktop users make purchases at least once a week, whereas 35% of mobile users make purchases at least once a week.
Mobile load speeds affect conversions — Kissmetrics says a single second delay in website loading time can see a 7% reduction in customer conversions. In fact, research shows that if your site takes longer than three seconds to load, most users will flee.
Websites that are difficult to navigate see less return traffic — Google says that 61% of users are unlikely to return to a site they found difficult to access.
How much does mobile optimization cost?
If you hire someone to design your website and they are charging you a fee to make your site mobile-friendly, run. We don't charge extra and most others include it for free as well. So, don't get scammed out of your hard-earned marketing dollars.
It's time to hop into the 21st century. Your website should be the foundation of all of your marketing efforts. It's the first place people head when they hear your company name. And it's a cost-effective way to be pulling in leads organically.
However, if a prospect doesn't have a positive experience on your site, it makes them less likely to convert to a lead.
If you need a website, need it redesigned to be mobile friendly, or any other website help we do offer a free consultation. Insurance Website Design is a cornerstone of Secure Agent Marketing and we work exclusively in the insurance industry.