Move Beyond Traditional Marketing
We Take Care of You So You Can Take Care of Your Clients
Today, there's a huge appetite for Medicare information. 
As a Medicare expert, when you first meet with prospects, are they sitting down with you being more informed than ever before? The answer is yes. Think about that first Medicare meeting five years ago. Most of them said they had no clue about their Medicare options. Now, thanks to YouTube and Google, your prospects have a better understanding of what they need, like Parts A and B with a Supplement, etc.
We're the Insurance Marketing Influencers
Secure Agent Marketing shares a building with a Medicare office, and our co-founder's dad has been selling Medicare plans for thirty years. Our team has mastered the parts and plans of Medicare. Trust us, the influencers in the insurance market, to help you educate the users about what you're selling — so you're in front of the right people to close deals.  
Medicare: An Entry Point to Other Services
Medicare is a great product line to build a business around. It's an even better product to build an entry point and gain more customers. And this applies to more than just insurance agents. Financial advisors often use Medicare as an entry point into their core services — because people in the retirement age may use annuities as well. To put it simply, the Medicare portion is the easiest lead to develop in the financial service arena. 
Medicare's Position in the Market
Consider this. If you take all of the Google searches for keywords in a given month, Medicare-related keywords outshine all the rest, including life, final expense, U65 health, and P&C. 
What does this mean for you? If you're not focused on educating the Medicare audience in your particular area, someone else will, and they could earn the business instead. We understand Medicare's position in the insurance market, and we're speaking your language!  
Digital Marketing Tailored to Medicare Agents
Many of our clients work with us because of our expertise in both marketing AND insurance. We know the difference between Medicare Advantage and Medicare Supplements. We know the different enrollment periods, eligibility requirements, and how Medicare works with other insurance.
Here are some of the ways we help Medicare agents establish and expand their digital presence: 
Website Development
Your website is your first chance to make an online impression. Does it contain detailed, foundational pages about your products or services? Is it marketing ready? Is it mobile-friendly? All of these features are important for increasing conversions. Secure Agent Marketing has vast experience in website development. Whether it's writing the content, fixing page load speed, or designing a brand-new 50-page website, we can get it done. 
Social Media Marketing
It's hard to close T65 apps without quality leads. Social media marketing plays a big role in helping Medicare agents generate leads and drive sales. In fact, we have many lead types we can generate through social marketing, including Medicare, agent recruitment, event marketing, and more! And we do it through Facebook, Instagram, LinkedIn, and YouTube. Let Secure Agent Marketing give you the average costs per lead that we see every day. 
YouTube Advertising
YouTube is the second-largest search engine in the world when you factor in the users, searches, and time spent on the platform. We strongly encourage you to advertise on YouTube. If you're new to it, don't worry. Our team can make a Medicare video and target it to the right demographics using keywords. We can produce many types of YouTube ads, including in-stream video ads, bumper ads, lead ads, and more. 
Interested in a different service? Ask us about our landing page services, Google Ads, content marketing, and more.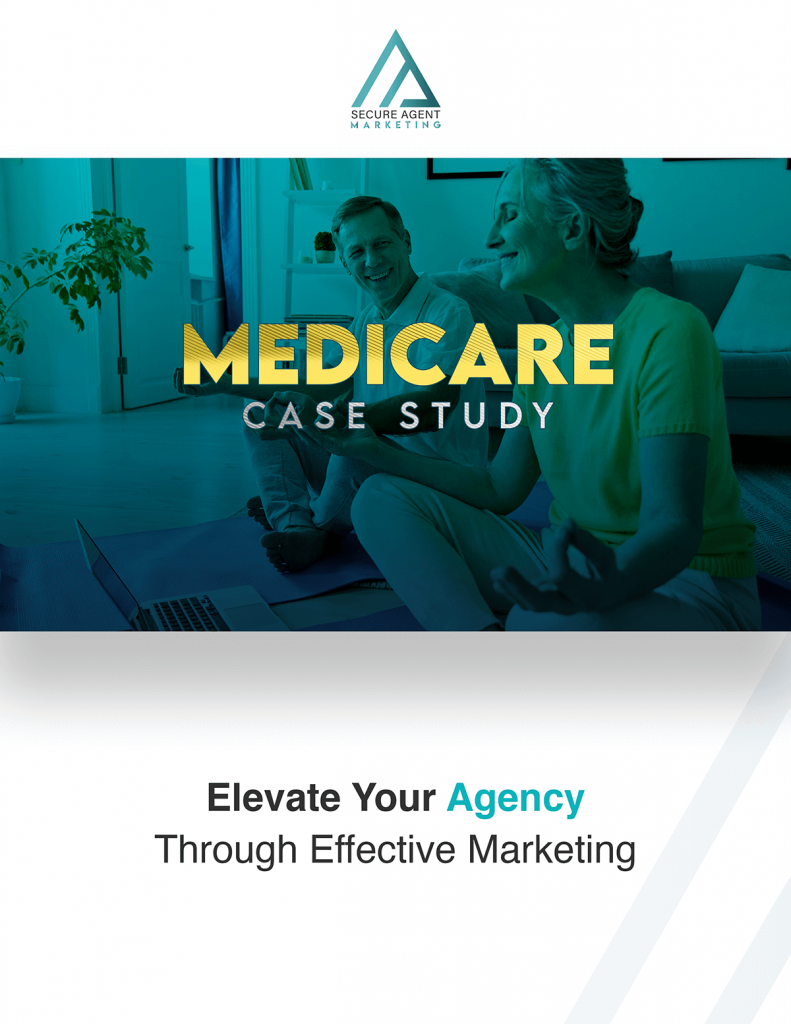 Medicare Case Study: Elevate your agency through effective marketing
Here is how Secure Agent Marketing boosted numbers by focusing on Social and Lead Internet Generation, Website, Videos, Organic Leads, and Media Placement.
Trust Secure Agent Marketing
At Secure Agent Marketing, nobody knows the insurance industry like we do. Our expert team will compose a marketing strategy that meets your budget and produces real results. Start a project with us today by calling 833-402-4368. 
"Thank you for the update. Yessir! I've seen a lot more activity and I'm really happy that things are going so well. I've been converting these into sales and I'm happy to see a number for the month being below $10! Great work. Thank you."
" I have been using Secure Agent Marketing for a few weeks now and am very impressed so far! The customer service is excellent, and I have already seen some great leads come through. My project manager Crystal Dwiggins has been wonderful to work with, and I highly recommend Secure Agent Marketing for your
lead generation
."
"The leads have really started to flow in, which is so awesome! I've got a lot of conversations going on right now...quotes out, group plans, etc. All good things :)"
"I love working with Secure Agent Marketing! Alli, Brock, and Tobi have helped me tremendously with my marketing efforts.They have been extremely responsive, courteous, and professional! I hope to continue this partnership for a very long time."
"Everything good on our end...all team members, even Landon, are responsive to our requests, and in a timely manner. After several lackluster experiences w/ other vendor relationships, we're of the mindset our interests are top of mind at SAM, and looking forward to building a monster success with you all."