Give Your Campaign a Remodel
Whether you already have a web presence or you're just getting started, our team is here for you.  
Digitally, your website is the first impression you give web users. Does your site include detailed, foundational pages about your products or services? Is it mobile-friendly? Is it call-to-action focused? All of these features matter when it comes to increasing conversions. Secure Agent Marketing has experience in website development. Whether it's writing the website content, fixing page load speed, or building a new website from scratch, we can make it happen.
Landing Page Services
Did you know? You can use a landing page to add to nearly any digital marketing campaign — including P&C insurance. Landing pages produce measurable results. They either completed your CTA or they didn't. Secure Agent Marketing has built, designed, and written thousands of landing pages to keep our clients full of leads. We know how to optimize these pages to convert the user. Looking for another way to generate leads? We also offer video production services, social media marketing, brand development, and more. 
It's not enough just to have a website. You need to keep your site your current and active, so that you build trust with your audience. This is called content marketing, aka SEO or blogging, which is a proven way to increase web traffic, generate leads, and ultimately drive sales. 
Our team can create written content that answers the questions that your prospects are searching for on Google, like What are the benefits of property and casualty insurance? How much does a policy cost? We can also optimize your page titles and metas descriptions to make sure you get found online.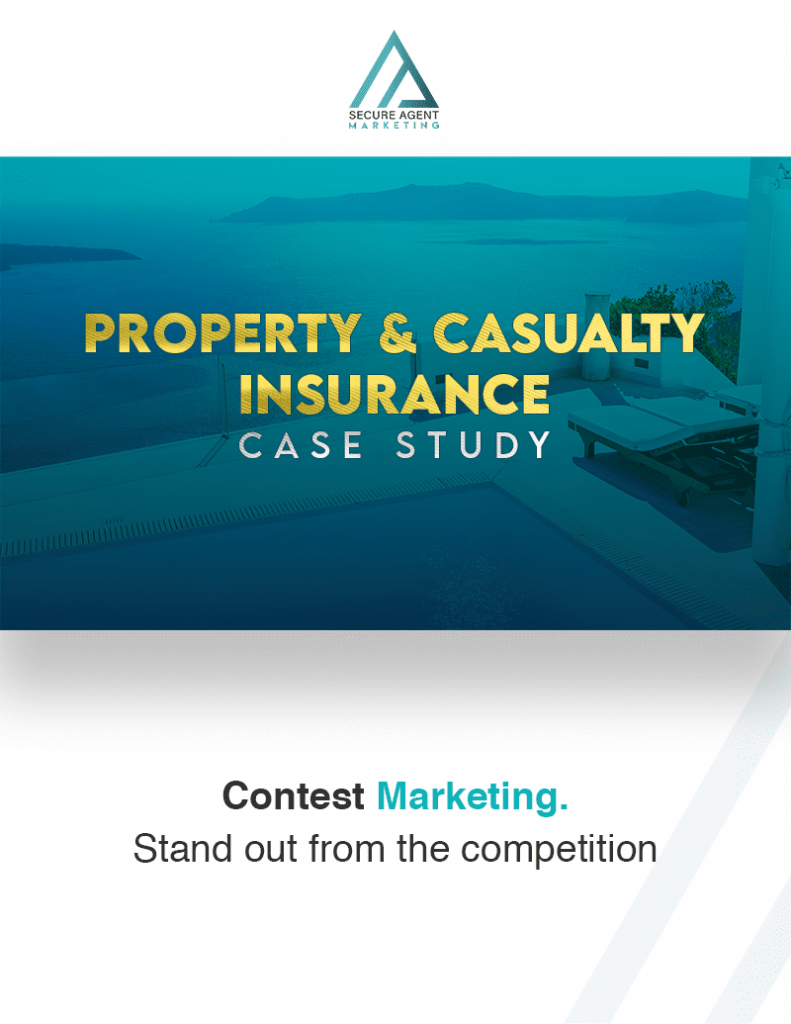 Property & Casualty Insurance - Case Study
Many agents are getting into the property and casualty insurance sector, which means the competition is only amping up. To attract new customers, our client needed leads. One way to generate leads — and stand out from the competition — was through a contest-marketing strategy.
Secure Agent Marketing is devised by both insurance agents and digital marketing experts. We'll compose a marketing strategy that meets your budget and produces real results. Come see for yourself! Contact us online or call 833-402-4368. 
"Thank you for the update. Yessir! I've seen a lot more activity and I'm really happy that things are going so well. I've been converting these into sales and I'm happy to see a number for the month being below $10! Great work. Thank you."
" I have been using Secure Agent Marketing for a few weeks now and am very impressed so far! The customer service is excellent, and I have already seen some great leads come through. My project manager Crystal Dwiggins has been wonderful to work with, and I highly recommend Secure Agent Marketing for your lead generation."
"The leads have really started to flow in, which is so awesome! I've got a lot of conversations going on right now...quotes out, group plans, etc. All good things :)"
"I love working with Secure Agent Marketing! Alli, Brock, and Tobi have helped me tremendously with my marketing efforts.They have been extremely responsive, courteous, and professional! I hope to continue this partnership for a very long time."
"Everything good on our end...all team members, even Landon, are responsive to our requests, and in a timely manner. After several lackluster experiences w/ other vendor relationships, we're of the mindset our interests are top of mind at SAM, and looking forward to building a monster success with you all."