Expand Past Traditional Marketing
Social Media Marketing
To close U65 apps, you need high buyer intent leads. Social media marketing plays a key role in helping insurance agents generate leads and drive sales. In fact, we have several lead types we can generate through social marketing, including under 65 health, agent recruitment, brand awareness, and more! And we do this through a variety of platforms — Facebook, Instagram, LinkedIn, and YouTube. We can give you average costs per lead that we see each day.
YouTube Advertising
Did you know that YouTube processes over three billion searches per month and more than 30 million users per day? Advertising on YouTube can give you a huge advantage over your peers — at a fairly low cost. Plus, our current clients say that YouTube Ads give them prospects with a higher buyer intent. We can produce many kinds of YouTube ads, including video discovery ads, display ads, bumper ads, and more.
Having a website isn't good enough. You need to keep it current and active to build trust with your prospects. A cost-effective way to do so is through content marketing, aka SEO or blogging — to boost web traffic, generate leads, and ultimately drive sales. Our expert team can create content that answers the questions your prospects are searching for on Google. Additionally, we can optimize your page titles and metas descriptions to make sure people find you online. 
Interested in a different service? Ask us about our landing page services, SEO, marketing consulting, and more.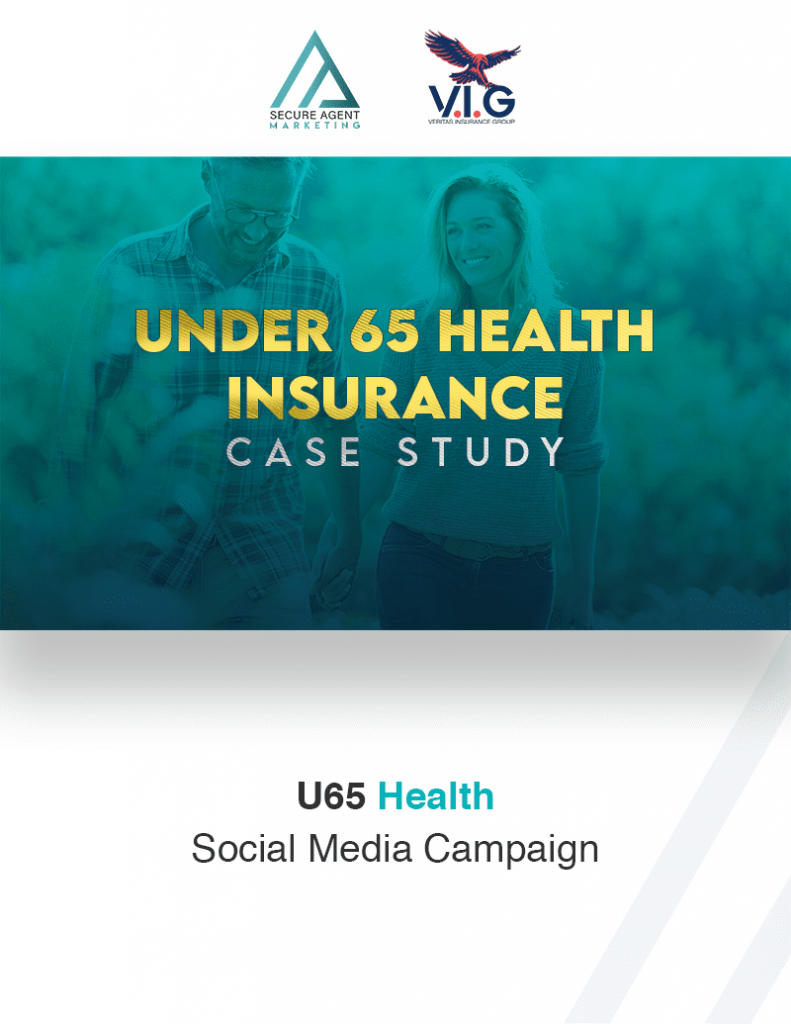 Under 65 Health Insurance - Case Study
Our client was looking to target individuals without health insurance that are under 65. He wanted to make affordable health plans available to more people, especially families. We discussed the best digital strategies to reach as many people — across many states — as quickly as possible.
Choose Secure Agent Marketing
If you're in the insurance industry, don't hire a random agency. Choose one that specializes in insurance marketing — because our knowledge of the industry itself is what sets us apart. Why wait? Start a project with us today!  
"Thank you for the update. Yessir! I've seen a lot more activity and I'm really happy that things are going so well. I've been converting these into sales and I'm happy to see a number for the month being below $10! Great work. Thank you."
" I have been using Secure Agent Marketing for a few weeks now and am very impressed so far! The customer service is excellent, and I have already seen some great leads come through. My project manager Crystal Dwiggins has been wonderful to work with, and I highly recommend Secure Agent Marketing for your
lead generation
."
"The leads have really started to flow in, which is so awesome! I've got a lot of conversations going on right now...quotes out, group plans, etc. All good things :)"
"I love working with Secure Agent Marketing! Alli, Brock, and Tobi have helped me tremendously with my marketing efforts.They have been extremely responsive, courteous, and professional! I hope to continue this partnership for a very long time."
"Everything good on our end...all team members, even Landon, are responsive to our requests, and in a timely manner. After several lackluster experiences w/ other vendor relationships, we're of the mindset our interests are top of mind at SAM, and looking forward to building a monster success with you all."