Did you know you could generate insurance leads through your own website?
You can.
However, you have to make sure your website makes it easy for prospects to convert.
How to generate insurance leads on your website
Now, there's a difference in having a lead form or a button that says "Get a Quote" on every single page versus just having a contact page.
What you try to do in digital marketing and website marketing is make it as easy as possible for the client to complete a short form to get in touch with you. This is a form submission that contains name, email, phone number, and date of birth (DOB only if necessary). Just a few, necessary fields to be able to contact the client and build the report.
Too many times we see insurance agents have something like eight or more fields for a prospect to fill out. Yeah, you might have a more qualified lead, but it also causes some to quit before they finish submitting the form.
Make it look something like this: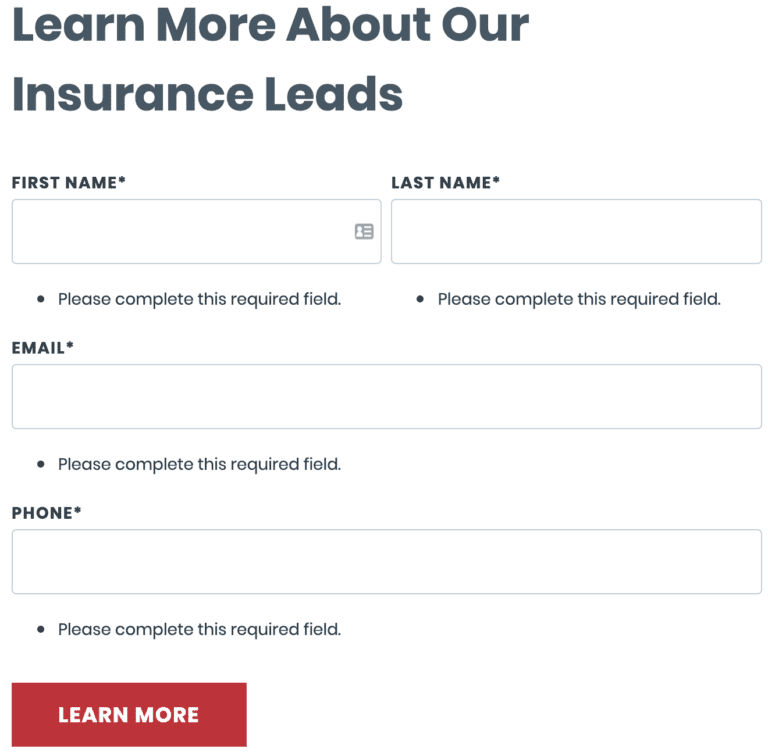 Still have an urge to add more fields? In a case study by MarketingSherpa, one extra field on a form submission resulted in 11% less form submissions.
Where to have conversion points on your website
Every page.
You want a click-to-call button with your phone number at the top of the page on the right side. Then, you want a contact tab with every possible way they can get in touch with you as well as a form they can submit.
On every page there should also be buttons to take them to a form they can fill out. Just make sure there's one always above the "fold" (visible on the screen without them having to scroll down).
Basically, you want to make it as easy as possible for a prospect to convert into a lead for you. Don't make it hard for them to give you their money.
It's certainly worthwhile to A/B test your CTAs. Hubspot wrote a blog about a company that increased their conversions 105.9% by simply having a clear CTA that leads to a whitepaper. On the whitepaper, the company educates the visitor about the company and everything they offer. Then, they tried a different headline and graphics.
If your website seems to be lacking in the conversion department, search results are never lacking in advice on better converting language or layout.
What else helps conversion?
There are a few other things that can help boost conversion rates.
Probably the best thing you can add is a video to the left of your form that essentially explains everything your text below says. People love videos and would much rather watch than read content. Instead, your text should be for SEO purposes and the video for user experience.
Therefore, another thing we always recommend our clients have on their site is testimonials. This can be a dedicated tab or at the bottom of their home page. Just some proof that people enjoy working with you and have experienced good results.
Other things that help when included are:
Social media subscription buttons/feed
Chat bots
Pictures of you and your team
High-quality images
Quick load times
Attractive design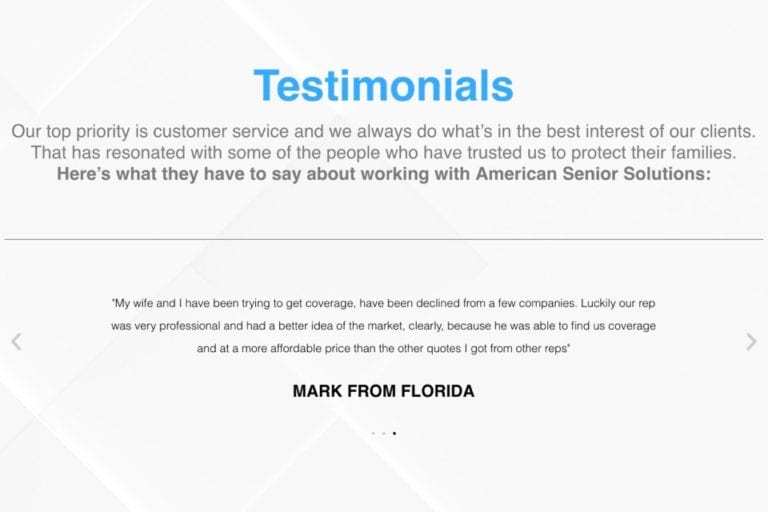 Put your site in the hands of someone who understands your industry
If you can't design your site yourself, you need to have someone who understands how prospects actively searching for insurance think.
That's why Secure Agent Marketing exists. We didn't like the back-and-forth with website developers who didn't understand the insurance industry. Our team knows what customers are looking for, how they consume content on websites, and what language gets them to convert.
We have spent millions of dollars on lead generation and our own websites. Now, we offer all of our experience to clients only in the insurance industry.
If you want to generate insurance leads through your own website, we can show you how.