In our recent interview with Rebecca, we talked about how she built her agency, her new book, 101 Grassroots Tips and Tricks (which launched on July 1), and much more! Check out a summary of the conversation below.
A Little Background
Davis says she couldn't buy leads in the first three years. "We were a one-income household, my husband was deployed, I had a little boy at home, and the budget just wasn't there," she explained. 
So she came up with other ways to generate lead flow: getting involved in the community, developing the grassroots ideas that basically subsidized what other people would spend on leads, and it just evolved from there.
"I prefer to do business that way. I'm a personable person and I want to get to know the community that I'm working in."
Community Involvement
Landon: What has been a core grassroots effort that you've had a lot of success with?
Rebecca: We've done so much in the community, but a lot of it is about putting on events geared towards seniors. If you can provide a fun activity, whether it's an exercise class, a cooking class, or a glorified dog show, they'll come — especially in small-town America. There's not much to do there, so these activities are a really fun way to connect and do business.
Landon: You're one of the most branded women in the insurance industry. How did you become so bought in on the personal brand side of things? Where did that come from?
Rebecca: Well, Kannonball Insurance is personal. It's about my son. It's easy to take something that's personal, to begin with, and keep it personal. That's the whole reason I'm in the insurance business. 
Seniors are putting their lives in my hands — that's personal. If an agent thinks that it's just about making a sale, they've lost their mind. It has to do with someone feeling comfortable putting the rest of their life in your hands. Because when you're 80 years old, there's nothing more important than your health. You want to create a comfort zone for that client to be able to live out the rest of their days with their grandkids and their children, and not have to stress over it." 
Starting with State Farm
Landon: You mentioned the insurance game is personal to you. Are you okay with sharing that story? Because I'd love to hear it. 
Rebecca: So I was actually working retail stores and I was pregnant and had an emergency c-section. At that moment, I realized I no longer wanted to work the retail rat race — retail is a rat race. I mean, it's holidays, it's nights, it's weekends. You're on the floor all the time, and it's this constant turnover. When I was on maternity leave, I ran across this State Farm ad, and I literally thought, so you're going to pay me to sell something that you legally have to have? How hard can that be? 
Well, it's a little bit harder than a person thinks, but I interviewed, got the job and my license in two weeks. I was there for four years and then was kind of back on the corporate hamster wheel going nowhere fast. 
And I'll always be thankful for that opportunity because I learned so much about the business in general. When I worked at State Farm, I gravitated towards the health side. I started thinking about my past and why, and I think it goes back to my car wreck when I was 23. At the time, I was self-employed and on insurance. Well, I ended up in the hospital from this car wreck. Long story short, they didn't pay anything, and three lawyers said there were so many loopholes in the policy there wasn't anything they could do. I was faced with a million dollars in hospital debt so I had to file bankruptcy at 23. Fast forward 10 to 15 years later, I got into the insurance business and I've been that person that literally laid up on the side of the road that wasn't protected."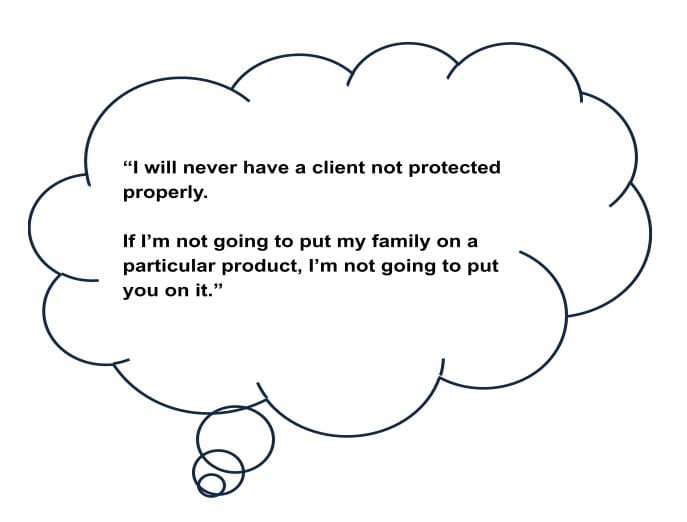 On Building Trust with Clients
Landon: How have you been able to be so successful, in such a short amount of time, in such a small market?
Rebecca: My clients trust me because I'm there for them. I truly believe if you service your client, your client will service you in return. They'll stay with you, give you loyalty, they'll send their friends and family, they'll send people they don't know on Facebook and TikTok… I mean, what better way to get business than word of mouth?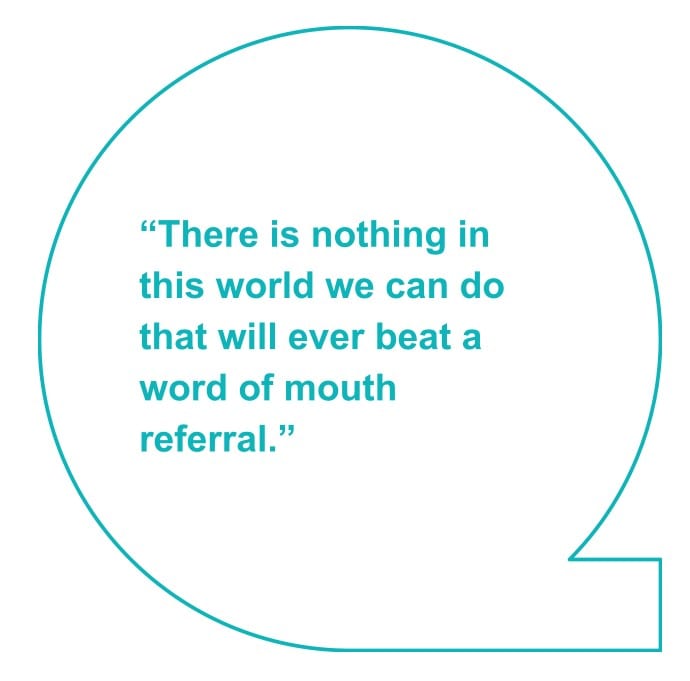 Landon: What are a couple of things that someone can do to build that trust that they can then implement in their agency right now?
Rebecca: "Trust is actually very simple. It's standing by your word. For example, if you say you're going to call them back in three days, call them back in three days (or sooner)! Whatever the issue is, you fix it or at least try to.
Not EVERY problem is fixable… but they want somebody they trust to explain that to them. So go get the answer and explain why it is this way, OR go get it fixed for them so they're not on hold for three hours and jumping from 15 different calls because they don't even know what to ask to get something fixed."
It's a very common logic that's so lost in today's world with IT and computers. That personal touch is being lost. The more you give that to your people, the more they'll crave it because they're going to feel like somebody cares."
Landon: What you're talking about requires an inordinate amount of customer service. You've done some amazing things with customer service. Is there any wisdom that we can take from what you've learned?    
Rebecca: We've really honed in on our core values this year. Our first core value is called Cannon Care, aka client care and retention — taking care of your people by providing true customer service. And everybody in my office knows it. A current client, to me, is more important than a new client. When a client walks in the door that has a problem, you're going to fix the problem and then go back to your quote.
Landon: What's another core value?
Rebecca: Communication, both with the client and within the office. That includes taking better notes and keeping them in files. That way, when any agent gets that phone call they can go back and review the client's situation and know exactly what's going on. My other core values are Reputation, profit, and fun. 
Landon: You also do this thing called woman and insurance, right? What's that about?
Rebecca: WIN, women in insurance niches. Over the last few years, I was attending these events and noticed a missing link and mainly towards the women. So I decided to create a membership group for women only — a safe place where women could learn from each other. 
We hone in on four key insurance necessaries, which are Medicare, ACA, the ancillary products like cancer, dental, vision, hearing, and then life insurance. The membership group has live training, one-on-one talks, and hopefully next year we'll have our first retreat. It's a tribe thing. 
By the way, WIN is going to have a booth at the 8% Nation Conference this year.